THE NEW GREG ADAMS AND EAST BAY SOUL CD RELEASED MARCH 26, 2018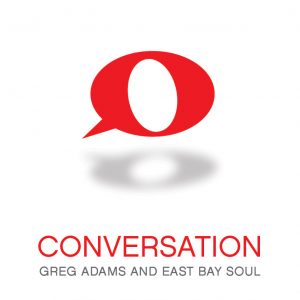 CONVERSATION THE NEW CD RELEASED ON MARCH 26!
AUTOGRAPHED COPIES AVAILABLE ON THE  SHOP PAGE
AVAILABLE AT AMAZON, iTUNES AND CD BABY
For Immediate Release: Greg Adams and East Bay Soul Conversation CD
It has been nearly a quarter century since the genre chameleon trumpeter and arranger became a leader in his own right with his ground breaking debut Hidden Agenda. With Greg Adams' approach that music is a language… the CONVERSATION continues. You will sense a direct connection with the live feel of the music, the open breath of each note and the collaboration of each player. Read More
"LOOK BOOK"
The first single from the CD Conversation is #2 Most Added in Billboard this week!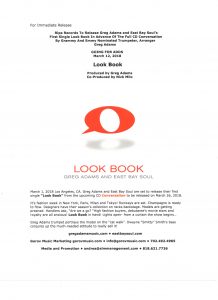 GREG ADAMS AND EAST BAY SOUL NEWS
THE BAND IS PERCOLATING AND THE CREATIVE JUICES ARE FLOWING! WE JUST FINISH RECORDING OUR FOURTH EAST BAY SOUL CD. COLLECTIVELY WE HAVE RECORDED, PERFORMED AND TOURED WORLDWIDE WITH HUNDREDS OF ARTISTS INDIVIDUALLY OVER THE SPAN OF OUR CAREERS. OUR MUSIC IS HORN DRIVEN INFUSED WITH R&B VOCALS AND A WICKED FUNKY RHYTHM SECTION. WE CREATED A COLLECTION OF SONGS THAT ARE UNIQUE TO OUR STYLE.
New Tour 2018 Dates  Added! Check out the show page