!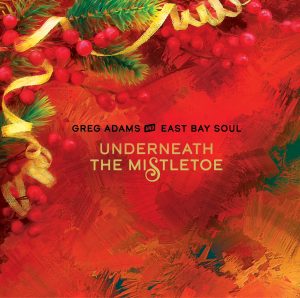 Underneath The Mistletoe marks Greg Adams and East Bay Soul's 5th studio album and their first Christmas CD!
Every strand of music seems to pass through one particular crossroad – Christmas music.
Underneath The Mistletoe hits all the right notes of the season and is sure to make your holidays bright!
Here, East Bay Soul performs classic Christmas Songs with a mix of Funk Jazz, R&B and Soul. Greg Adams, Grammy and Emmy nominated trumpeter's gorgeous arrangements herald in the season and the soulful R&B vocal by Darryl Walker caress the timeless lyrics of your favorite holiday music.
Underneath The Mistletoe is the ultimate Christmas experience capturing all of the inspiration and nostalgia of the holiday season. Add the benefit of vision, musical " know how" and the insight that comes through genuine affection, respect and friendship. Greg Adams and East Bay Soul delivers you the recipe for making very special holiday memories.