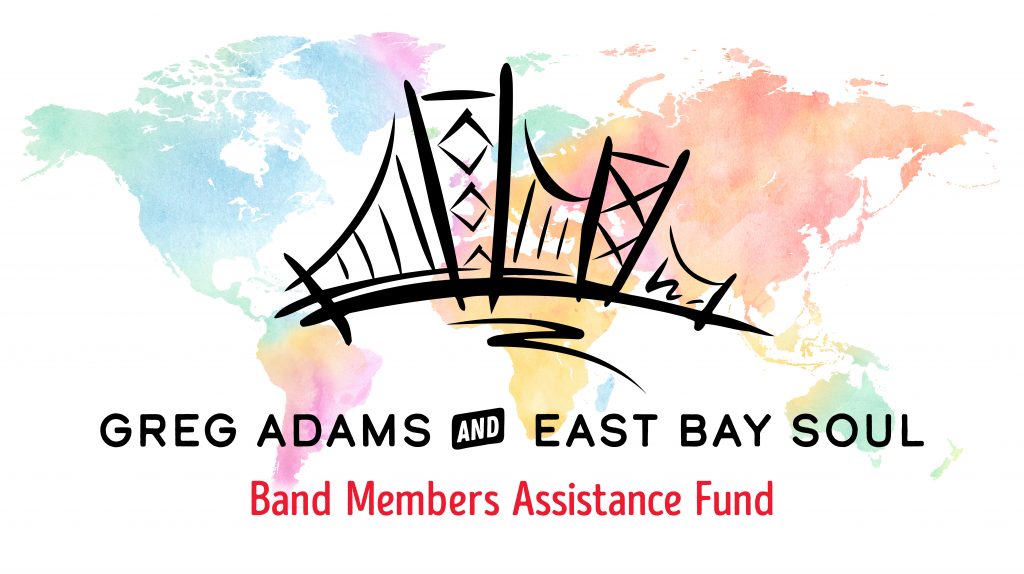 Dear Friends,
I would like to raise funds to help out the members of East Bay Soul during this time of uncertainty. All of our gigs have been cancelled. Yes, we have been able to reschedule some later in the year and those are also uncertain, the EBS members are totally out of work now and have no other gigs in this unpredictable future. I'm asking you, our True Funk Soldiers to support the musicians you love performing on stage (with any dollar amount) and hopefully we'll be back on that stage soon. 100% of the funds will go to the EBS band members who all have been effected by the COVID – 19 Virus lockdown.
Nick Milo, Kay-Ta Matsuno, Herman Matthews, Del Atkins, Johnnie Bamont, Steve Nieves, Michael Stever, Lee Thornburg, Darryl Walker.
I set up the PayPal Pool account because they do not take a credit/debit card % taken from a Go Fund Me account and this allows me to send money directly to them via PayPal.
Thank you very much,
Greg
MARCH 19, 2020
AS YOU KNOW, VENUES, LARGE AND SMALL, AND ALL MUSICIANS THAT PERFORM AT THEM, OUR HOSTS, THE STAFF, CREW, SERVERS, RESTAURANTS AND BARS ALIKE HAVE BEEN DRASTICALLY EFFECTED DURING THESE TRYING TIMES WITHIN THE ENTERTAINEMENT INDUSTRY AND ACROSS THE BOARD! WE ARE DOING OUR BEST TO RESCHEDULE EVENTS TO MAKE SURE WE CAN BRING AS MANY SHOWS TO OUR FANS LATER THIS YEAR. SUPPORT LIVE MUSIC!
CHECK OUT THE SHOW PAGE FOR UPDATES AND RESCHEDULED SHOWS
Watch Now!
New Greg Adams and East Bay Soul Video 2020