For Immediate Release: Greg Adams and East Bay Soul Conversation CD
It has been nearly a quarter century since the genre chameleon trumpeter and arranger became a leader in his own right with his ground breaking debut Hidden Agenda. With Greg Adams' approach that music is a language… the CONVERSATION continues. You will sense a direct connection with the live feel of the music, the open breath of each note and the collaboration of each player. Read More
"LOOK BOOK"
The first single from the CD Conversation is #2 Most Added in Billboard this week!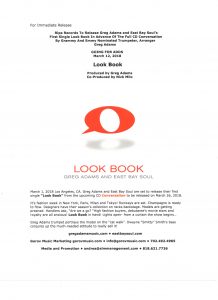 PRE-ORDER! THE NEW GREG ADAMS AND EAST BAY SOUL CD CONVERSATION
AND ACCESS OFFERS NOT FOUND ANYWHERE ELSE!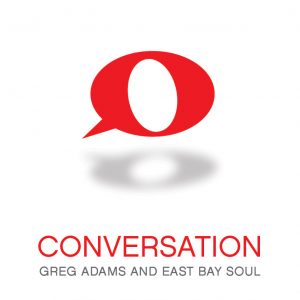 GREG ADAMS AND EAST BAY SOUL NEWS
THE BAND IS PERCOLATING AND THE CREATIVE JUICES ARE FLOWING! WE ARE GOING IN THE STUDIO TO RECORD THE FOURTH EAST BAY SOUL CD. COLLECTIVELY WE HAVE RECORDED, PERFORMED AND TOURED WORLDWIDE WITH HUNDREDS OF ARTISTS INDIVIDUALLY OVER THE SPAN OF OUR CAREERS. OUR MUSIC IS HORN DRIVEN INFUSED WITH R&B VOCALS AND A WICKED FUNKY RHYTHM SECTION. WE ARE CURRENTLY WRITING A COLLECTION OF SONGS THAT ARE UNIQUE TO OUR STYLE.
WE HAVE CREATED SOME GREAT OPPORTUNITIES AND EXPERIENCES THAT WE THINK YOU WILL LOVE.  WE WANT YOU TO BE PART OF THIS VERY SPECIAL CD AND JOIN US ON THIS NEW MUSICAL JOURNEY. YOU CAN FOLLOW OUR PROGRESS ALONG THE WAY – RIGHT HERE ON THE EAST BAY SOUL BLOG. TOEGETHER WE KNOW THIS WILL BE OUR BEST RECORDING YET! 
PRE – ORDER THE NEW CD TODAY AND TAKE ADVANTAGE OF SOME GREAT OFFERS NOT TO BE FOUND ANYWHERE ELSE!